Organisation
Province of the Anglican Church of Southern Africa (Archbishop Thabo Makgoba)
Bishop of Lebombo: The Rt. Revd. Carlos Matsinhe
Bishop's and Diocesan Office:
CP 120, Maputo, Mozambique.
☎ (+258) 21404885 and (+258) 21405364
✉ carlosmatsinhe@rocketmail.com
ALMA Link Officer: Ivan Macie
Diocesan Secretary: Revd. Sergio Bambo
Mothers' Union President: Joana Chilengue
Anglican Social Action (ASA): Revd. Dc. Mercio Langa
Bishop's Commissary in the UK: Sheenagh Burrell, ✉ ALMAcoordinator@london.anglican.org
About Bishop Carlos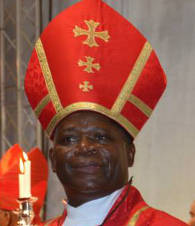 Bishop Carlos Simão Matsinhe was consecrated Bishop of Lebombo on 28 September 2014. He is the 11th Bishop of Lebombo, and the second bishop to be Mozambican-born
He was previously the Dean of Maciene Cathedral, and before that a priest in the parish of SS. Stephen and Lawrence, Maxaquene.
Fr Carlos Simao Matsinhe was born on 2nd October 1954 in the Homoine District of Cambane, region in Inhambane Province. His Primary education was in a Roman Catholic missionary school in Homoine. He completed Secondary education in 1974 at Our Lady of the Immaculate Conception College in Inhambane.
In January 1975 he entered theological education in the Anglican Seminary of St Mark in Dar-es-Salaam in Tanzania. He gained a diploma in theology from the University of Makerere, Kampala Uganda. In January 1980 he was ordained priest in the Diocese of Lebombo within the Anglican Communion in Mozambique.
He took on the formal role of Dean in the Cathedral Church of St Augustine in Maciene in Gaza Province. He also had responsibility for Education, Community Health and Development Projects in the Diocese.
He is married to Hortencia Samuel and they have five children.
Some key facts about the diocese
The diocese was founded in 1893.
It covers the six civil provinces south of the River Zambezi.
In 2011, there were 300 congregations served by 50 priests and 300 catechists. The Mothers Union had 1700 members.
Bishop Carlos Matsinhe was consecrated Bishop in 2014.
The cathedral church is St Augustine's at Maciene, 240 miles north of Maputo.
St Christopher's Anglican Seminary in Maputo serves both Mozambique and Angola.
The Links between Lebombo and London
See more about the links between parishes in Lebombo and London …
Background to the Anglican Church in Lebombo