Advocacy is a key part of being in relationship with those whose lives are very different from our own. When ALMA began in 1998 Mozambique was officially the world's poorest country. In 2002 UNICEF declared Angola the worst place in the world to be a child. Both countries have emerged from a long colonial legacy and civil war, extremely prolonged in Angola's case. We have much to learn from Angola and Mozambique . The church's preparation for peace programmes, and transformative 'swords into ploughshares' programme in Mozambique are world firsts and lead the way for post conflict countries engaging in reconciliation.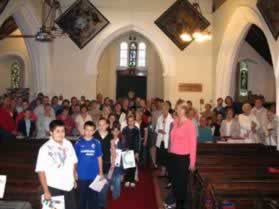 Stand up Against Poverty
16 Oct 2006 at St Mary's Littleton
In other areas though we can help by speaking up and taking action about issues such as debt, trade justice, HIV/AIDS, and malaria, which directly affect the quality of life of our partner dioceses. Poverty reduction is a biblical imperative and ALMA Parishes have played a full part in this. They have supported Jubilee 2000 and Jubilee Debt Campaign; the Trade Justice Movement; MAKE POVERTY HISTORY; STAND UP AGAINST POVERTY and a representative from ALMA has been on the steering group of the new Coalition Against Malaria.
Five Marks of Mission
The five marks of mission of the Anglican Communion inform our advocacy. In ALMA we seek to:
proclaim the good news of the kingdom
teach baptise and nurture new believers
respond to human need by loving service
seek to transform unjust structures of society
strive to safeguard the integrity of creation and sustain and renew the earth.
Bishop Mark and Revd Helen Van Koevering say:
"The suffering of Christ seen from the perspective of the poor is so different to the perspective of those who have access to effective health care. In our teaching, we are keen to connect with all aspects of life. The Christian Faith needs to talk about development and justice issues, as well as evangelism and the gospel. We are promoting a holistic view of the Christian faith, which is particularly important in a country where poverty is such a major concern for many people."

USPG Project 339 Issue 8 May 2006
Millenium Development Goals
The Millennium Development Goals for 2015 are a benchmark for advocacy. The goal is to reach the following targets:
Eradicate extreme poverty and hunger
Achieve Universal Primary education
Promote gender equality and empower women
Reduce child mortality
Improve maternal health
Combat HIV/AIDS, malaria and other diseases
Ensure environmental sustainability
Develop a global partnership for development.
What can I do? What can my church do?
Sometimes when the issues are difficult and complex we can feel powerless to help so it can be useful to look at them from the perspective of Angola and Mozambique .
For example Bishop Dinis motivated many to become involved in Jubilee 2000 and Jubilee Debt Campaign. In the 1998 ALMA handbook he says :
"Foreign debt is enslavement of citizens, before they are born, during their lifetime, after they die. It is a kind of silent genocide"
In 1998, when 70,000 people encircled Birmingham at the time of the G8 summit calling for the cancellation of the unpayable debts of the world's poorest countries, how many would have predicted that in 2006 Mozambique's debt would be cancelled?
In the journal Development Policy Review Huw Evans a former IMF and British Treasury insider acknowledges the part ordinary people can play:
Debt reduction has been delayed for many years because governments have been unwilling to admit they have made bad loans, and it is only pressure by Jubilee 2000 and other groups that has made the difference.
Without doubt ordinary Christians have played a major part in the success of the debt campaign.
In our own churches:
Listen to our partners in Angola and Mozambique
Pray for Angola and Mozambique and for those working for economic justice, and improvements in primary health care and education
Speak up on issues that affect Angola and Mozambique
Sign campaign postcards (again and again)
Write to MPs, ministers, ambassadors, G8 leaders, and international financial institutions like the IMF, World Bank and World Trade Organisation.
Take action locally – symbolic gestures are very newsworthy
Take action in London e.g. Trade Justice Lobby
Act Locally, Think Globally!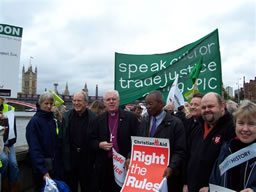 Bishop Michael, Chair of ALMA , with ALMA Reps, London Clergy and Christians at the Trade Justice Lobby of Parliament Nov 2005
For more details, information and suggestions on advocacy with specific reference to Angola and Mozambique do click on the hyperlinks and look at the wider issues section of the website: