The purposes of ALMA are set out in the original Covenant signed on 12 July 1998 and the renewed Covenant signed on 13 July 2008. Funds raised are used for various projects, some of which are part of the ALMA's Children or ALMA Catechists initiatives:
General Support
The types of activity which are met out of ALMA's general fund include:
Payment of air fares of visitors to London from our Link Dioceses in Angola and Mozambique;
Payment of travel costs in connection with the theological training of ordinands outside of their own dioceses, e.g. in Grahamstown, South Africa;
Contributing to the audit fees of our Link Dioceses, in special circumstances, to ensure financial transparency and accountability.
Contribution to ALMA Link Officers' salary and benefits in the Dioceses of Angola and Niassa (and, potentially in future, of Lebombo);
While some of these activities may not seem exciting to fund they are critical to capacity building in our Link dioceses and to enabling parish links to develop. Contact the ALMA Co-ordinator to find out how to make your donation.
ALMA's Children
A fund set up in 1999 to promote education and the relief of poverty. Each of our Link dioceses is allocated one-third of the sums raised and details of the grants given are documented in the ALMA annual accounts.
Example projects:
Contact the ALMA Co-ordinator for more details about giving under this scheme.
ALMA Catechists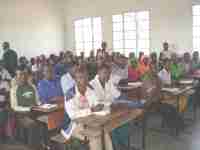 Catechists in Púngoe Archdeaconry
A fund established in November 2004 to help with the training of lay catechists and re-launched in November 2008.
There is a great shortage of trained priests to service the rapidly growing churches, which means many congregations are led by catechists who fulfil various lay ministry roles.
Training programmes under this fund have been drawn up that not only enable catechists to lead Sunday worship and take funerals, but also develop leadership skills. A programme in Púngoe Archdeaconry is a good example.
Would you or your parish support the training and equipping of a catechist? It costs about £500 (e.g. teaching, bicycle, bible, cassock), which can be paid in one lump sum or by standing order payments of £8.50 per month for five years.
Look at Lay Leaders' Link Leaflet (

206 Kb) for details.
Donations to the ALMA Catechists fund will be split between the Dioceses of Lebombo and Niassa in Mozambique, because of the following alternative programme in Angola.
Special Projects
Many donations are received for special projects in our Link Dioceses, paid for by individuals or parishes. Such projects include:
financing of church and school buildings;
literacy projects;
provision of mosquito nets and bibles;
and many other vital initiatives.
We support some specific projects:
Donate Now to find out how to send your gift.