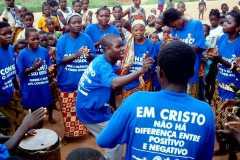 Equipas da Vida teams (Life teams) in Niassa, with their blue T shirts proclaiming
In Christ there is no positive or negative
.
Photo: Rebecca Vander Meulen
There is a video about the Equipas da Vida teams, with Rebecca Vander Meulen explaining how they work.
Each year, on World AIDS Day, Rebecca Vander Meulen offers some reflections on AIDS. (Rebecca is the Head of Mission, Diocese of Niassa.)
(These are for 2015. Reflections for 2014, 2012 2011 2010 and 2009 are also here.)
Solidarity Walk in Cunene - news from Bishop André Soares about a walk in May 2010 in Cunene to show solidarity with HIV and AIDS sufferers there
'HIV and AIDS Challenges and the Church' - news from Bishop André Soares on an HIV initiative in Angola: REDE ESPERANÇA which he, Luandan clergy and the Luandan Clergy wives are leading
Kubatsirana - an ecumenical Christian Association in Chimoio, Mozambique.
2006 update from the Anglican Church of Southern Africa
World AIDS Day 2006: read a press release from Angola. The service included a presentation of AIDS education in Niassa Diocese (

6870 KB)
Road show spreads the word about HIV in Chimoio, a town in north-western Mozambique where Kubatsirana is located.
AIDS Poverty Tree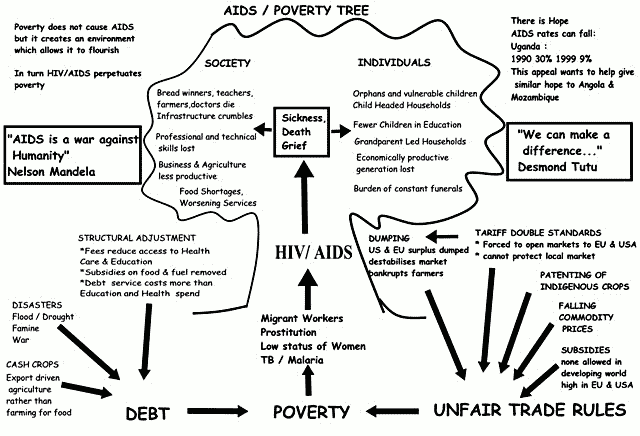 Poverty does not cause AIDS, but it creates an environment which allows it to flourish. The AIDS poverty tree is a way of understanding how poverty fuels the AIDS pandemic and how AIDS perpetuates poverty.
Click on the tree for a full sized version.
The tree is based on ideas and material from Christian Aid and the World Development Movement and derives from a workshop at the Churches' World Development Network Consultation at Swanwick in May 2002.