ALMA believes that unfair terms of trade hinder the development of the people of Africa, and has supported Fairtrade initiatives. The Diocese of London has achieved Fairtrade status.
London's Bishops Lobby for Trade Justice
London Bishops supported the Trade Justice Lobby on 2 November 2005, both in person on the day, and by writing to all London MPs beforehand.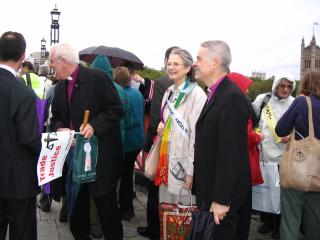 The Bishops of Kensington and Edmonton at the mass lobby for Trade Justice on 2 November 2005
Prior to the lobby, the Bishops of Kensington and Edmonton wrote to all London MPs. In their letter, they highlight the need for trade justice as a route out of poverty in London's twin dioceses of Mozambique and Angola.
Their letter reads:
"As Bishops in the Diocese of London we stand alongside our congregations and clergy who, throughout this MAKEPOVERTYHISTORY year, have been highlighting the biblical imperative to address global poverty. St Paul's Cathedral hosted the public meeting addressed by Kofi Annan and Gordon Brown before the G8 Summit in July, and there have been many creative, informative and prayerful events – among the most symbolic being the MAKEPOVERTYHISTORY banner around the dome of the Cathedral and the priest who lived on bread and water for a week during a vigil on the Millennium Development Goals.

"Our support for trade justice as a route out of poverty is firmly grounded in the experience of our partner dioceses in Angola and Mozambique – two of the world's poorest countries. There, the impact of enforced trade liberalisation, EU and US agricultural subsidies and the dumping of surpluses on fragile post-conflict economies is clearly seen. Bishop Dinis Sengulane of Mozambique writes 'Mozambique produces so many different things like cashew nuts, cotton, fish and coconuts but we don't get our fair share of trading opportunities. There are a lot of subsidised imports which are cheaper than Mozambican products'.

"It is our hope and prayer that the strength of this lobby will result in resolutions at the WTO Ministerial in December allowing developing countries: firstly, to use trade policies to protect their vulnerable farm sectors and promote national industries and secondly, to choose the best policies for the poor and the environment in services such as water, health and education.

"To this end we hope that as you meet people from your constituency at the lobby on 2 November, we may have the opportunity of meeting with you as we accompany the constituency groups along the banks of the Thames from 1pm onwards.

"In our world city it is both encouraging and important to see the world's poor at the forefront of the agenda. The UK led the way on debt remission and the reverberations from 2 November may lead to a more just refashioning of trade rules. We encourage you to play your part in this and, along with members of our churches, look forward to meeting with you on 2 November."
ALMA supporters and Bishops help drum Trade Justice home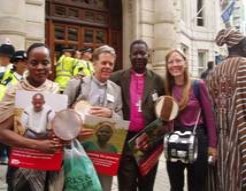 On Thursday 14 September 2006, Bishop André and fellow Angolans, along with Bishop Peter Wheatley from the Edmonton Area, marched from Lambeth to the Treasury with ALMA reps and about 3,000 Christian Aid supporters and partners.
The Beat Goes On marchers were demanding that our government withhold UK payments to the IMF and World Bank until these International Financial Institutions (IFIs) stop attaching conditions to aid and debt relief that force poor countries to open up their economies before they are ready. Poor countries must be allowed self-determination in the rate at which they open up to free trade. In 2005 the UK government promised to drop any such damaging conditions itself and must now use its influence within the IFIs.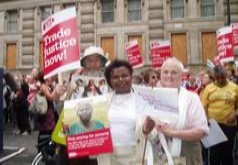 Christian Aid always asks us to work with any link partners in the South in our campaigning. ALMA reps were therefore delighted when we realized that Bishops André, Dinis and Mark were in London. Bishop Mark was unable to attend due to illness, but the Archbishop of Canterbury put in a welcome appearance.
It was a colourful, good humoured and very noisy event blessed by a warm, sunny day and spirits were high after Hilary Benn's early morning announcement that the UK government would withhold £50 million of its contribution to the World Bank in protest against the organisation's continued use of damaging economic conditions on loans to poor countries.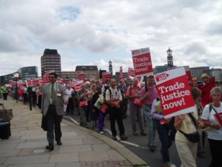 Daleep Mukarji, Director of Christian Aid, thanked campaigners for their support. They responded with cheers and drumming. He said, "This is excellent news and a vindication of all your hard work". But he also noted it was a first step and the UK government must withhold the rest of its funds until the World Bank and IMF substantially reform themselves.