Diocesan-wide Lent Appeals are an excellent opportunity to:
raise funds for our link dioceses
to work in partnership with the major development and mission agencies (e.g. Christian Aid, CMS, Mothers' Union, Tearfund, USPG)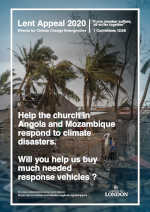 Lent Appeal 2020 - "Wheels for Climate Change Emergencies"
The Diocese of London Lent Appeal in 2020 will be for the ALMA Partner Dioceses, facing Climate Change emergencies.
There is full information about the background and purpose of the Appeal here, with notes for parish treasurers and other resources, including a downloadable poster. There is also a way to give directly online.
Past Appeals
As a direct response to London Challenge 2012 (Commitment 5b) the Diocese of London supported its ALMA partners for the five Lents from 2008 - 2012.
See how previous Lent Appeals have benefited our link dioceses:
Lent 2008 Education for All.
Lent 2009 Living Water.
Lent 2010 Transforming Lives … ALMA's Children.
Lent 2011 Training God's People.
Lent 2012 Giving Ministry Wheels.
In 2014, the Diocese of London's Lent Appeal was split between the Bishop of London's Mission Fund and ALMA.
In 2017, the Diocese of London's Lent Appeal was for ALMA, and its vital work in education – Sowing Seeds for Tomorrow. Read more …