Each year, ALMA celebrates its partners on ALMA Sunday, usually the Sunday nearest 12 July. There is often a special service in St Paul's Cathedral, and parishes are encouraged to hold ALMA Sunday celebrations.
2017

ALMA Sunday was on 9 July, with a service at 6 p.m. in St Paul's Cathedral. The Bishop of Lebombo, Bishop Carlos Matsinhe, preached and 25 pilgrims from Lebombo were present.
We have documents for the service available to download: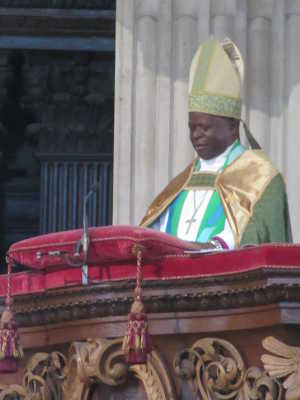 Bp Carlos preaching at St Paul's
Earlier Years
We have an archive of some of the ALMA Sunday services from earlier years.
Here is a prayer that can be used for ALMA Sunday:
Father God we hold ALMA before you today, thanking you for the last twenty years and the deep fellowship and friendship that has grown between the Anglican churches of Angola, London and Mozambique. We ask your continued blessing on our partnership, praising you for the joys and sorrows shared, challenges faced, and the years ahead. May we continue to learn from each other and see your kingdom come in Angola, London and Mozambique.
We remember today the ALMA bishops, Bishop André Soares, Bishop Carlos Matsinhe, Bishop Vicente Msosa, Bishop Manuel Ernesto and Bishop Rob Wickham, all priests, lay ministers, catechists, community ministers especially the Mothers' Union, Equipa da Vida and the Bernard Mizeki Guild.
We acknowledge the huge issues of climate change, poverty and hunger and pray that our partnership has a prophetic voice alongside serving hands and hearts. We ask this in the name of Jesus who sends his church to love and serve the world. Amen.