Campaign against Malaria in Mozambique
The Church Times reported on 26 Aug 2011: "Anglican church choirs in Mozambique have been leading a campaign against malaria by appearing on television and singing about the disease in talent shows."
Archbishop distributes Malaria nets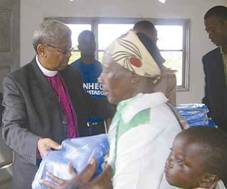 In 2006, the then Archbishop of Cape Town (Archbishop Njongonkulu Ndungane) visited Macia in Mozambique to help to distribute malaria nets.
Anglican Archbishop Njongonkulu Ndungane of Cape Town took delivery of part of a consignment of 16,500 mosquito nets at Maputo Harbour on August 29, 2006. The nets have been treated with a long-lasting insecticide and were donated by Standard Chartered Bank and Episcopal Relief and Development (ERD). HOPE AFRICA, the social development arm of the Anglican Church in Southern Africa, facilitated this donation.
Ndungane, together with Bishop Dinis Sengulane of Lebombo, and senior church staff, paid a courtesy call to Mozambique President Armando Guebuza and pledged partnership, on behalf of the Anglican Church, in the international Roll Back Malaria campaign. Ndungane also promised support to Mozambique in the battle against HIV and AIDS.
On August 28, Ndungane visited a maternity hospital in Macia, about two hours from Maputo, to distribute nets to pregnant women and mothers with young children.
"A mosquito net is a small thing, but we are giving out 16,500 mosquito nets," he said. "That is 16,500 people who will now be able to sleep safe from mosquitoes, safe from the threat of malaria. That means 16,500 people have received a physical demonstration that they matter."

He added that on their own, donors and policy makers cannot distribute mosquito nets to all who need them and this is why churches, and other faith communities, have a vital role to play.

"Wherever there are people, faith communities are present. And we have organizations that network across the country and across the continent," he said. "Through our parishes and congregations, we can reach almost everybody. We can take practical actions, and we can also feed back the necessary information about how effective policies and programs are on the ground. In this way we can help shape the decisions that are made to ensure that they are as effective as possible in giving support to those who need it most."