The Diocese of London covers 277 square miles of Greater London north of the River Thames, serving a population of 3.6 million.
The cathedral is St Paul's Cathedral.
The Bishop of London is the third most senior bishop, after the Archbishops of Canterbury and York.
The Diocese of London is made up of five areas, four of which have an area bishop.
Bishop of London - Bishop Sarah Mullally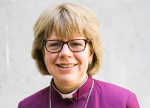 The Bishop of London is the Rt Revd and Rt Hon Dame Sarah Mullally DBE. She is the 133rd Bishop of London, and was installed on 12 May 2018.
'Bishop for ALMA' - Bishop Rob Wickham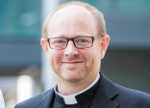 The Bishop of Edmonton, Bishop Rob Wickham, is the Diocese of London's 'Bishop for ALMA', and the chair of the ALMA Strategy Group. He was appointed to this position in March 2016, having been consecrated Bishop of Edmonton in September 2015.
Archdeacon John Hawkins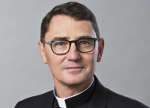 The Archdeacon of Hampstead, the Venerable John Hawkins, is the vice-chair of the ALMA Strategy Group and chair of the Finance and Projects sub-group. He was appointed to these positions in March 2016.
ALMA Strategy Group
ALMA activities in the Diocese are controlled by the ALMA Strategy Group.
The Chair of the Strategy Group is Bishop Rob Wickham, Bishop of Edmonton.
Day-to-day activities are organised by the ALMA Co-ordinator and other officers.
Facts about the Diocese
Second century origins, re-organised in 604AD
Relating to 18 boroughs north of the River Thames
Serving 3.9 million people in 277 square miles
500+ worshipping communities
1,000 clergy and ministers
200 men and women in training for ministry
70,000 adults on electoral rolls
100,000+ regular worshippers
149 church schools
50,000+ pupils
150+ chaplaincies in schools, colleges, hospitals, the Met Police, Heathrow, railways, the Olympics, prisons, theatres, the forces, football clubs, Canary Wharf, livery companies, shops and City institutions
Millions raised each year for charities around the world
1,500,000+ visitors and worshippers in St Paul's Cathedral each year
Churches around the Diocese operate over 1000 community ministry activities aided by over 10,000 volunteers, benefiting over 700,000 Londoners. These projects include work with children, youth and families, homeless people, the elderly and those experiencing problems with health or addiction.
In addition, there are thousands of groups working with countless community-based activities take place all across the Diocese, such as mother and toddler groups, youth clubs and Guides and Scouts groups.