Organisation
Missionary Diocese of Zambézia, covering the Mozambican province of Zambézia. A part of the former Diocese of Niassa.
In the Province of the Anglican Church of Mozambique and Angola (Igreja Anglicana de Mocambique e Angola, or IAMA).
Bishop of Zambézia: The Rt. Rev Vicente Msosa
Bishop's and Diocesan Office:
Diocese da Zambézia, Bairro Cemento. Av Josina Machel, Quelimane
✉
☎
Diocesan Secretary: Rev Samuel Manuel Mankhaka
Finance Officer: Daniel Andro Mcuinda
Director of Ministry: Rev Carlos Capito
Project Officer: Lazarus Kanthambi
Bishop's Secretary: Rev Avelina Malamulo Diquissone
About Bishop Vicente: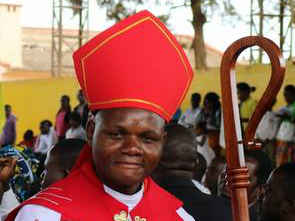 Bishop Vicente Msosa
Bishop Vicente Msosa was consecrated Bishop on 25 February 2017 and enthroned as the fourth Bishop of Niassa on 1 April 2017. He moved to the Diocese of Zambézia in 2021.
Previously he was Director of Evangelism for Youth Ministry in the Archdeaconry of Lichinga and Diocesan Co-ordinator of Ministry and Rooted in Jesus training for Catechists.
Fr. Vicente Msosa was born on 18 February 1981 in Chuanga, 4 Km from Messumba Cathedral. He was educated locally and after 12th grade went to Teacher Training College where he trained as a teacher. Whilst teaching he was much involved with evangelism. In 2010 he studied at the College of the Transfiguration where he obtained a Diploma of Theology. In 2013 he was ordained deacon and later in the year ordained priest. He then studied for a Degree in Theology at the Malawian Lake Anglican University and is currently studying for a Masters Degree in Ministry with the Minnesota School of Theology.
He is married to Anastacia and they have three children - Andrason, Ebenezer and Omegarda.