News
Bishop Vicente's Enthronement
What an exciting two months for our partnership! Bishop Vicente Msosa was enthroned as the fourth Bishop of the Diocese of Niassa in Lichinga at the beginning of April. A very special celebration marked this occasion which, Niassa style, made good use of the gathered Diocesan Clergy to include training sessions on creation care with Rachel Mash of Green Anglicans in ACSA and on Ephesians 4 and 'Praying for Seven' from Bishop Rob.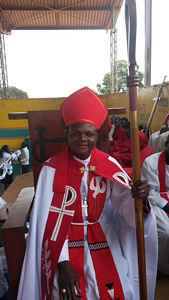 Bishop Vicente Msosa, Bishop of Niassa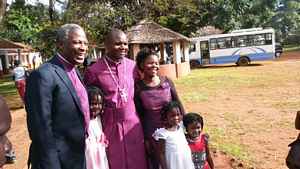 Bishop Vicente and his family with Archbishop Thabo
We give thanks for Bishop Vicente and pray for him and his family (above with Archbishop Thabo) as he starts out in his new ministry. We give thanks too for those who have gone before him and sown good seeds in Niassa: Bishops Paulo Litumbi, Paulino Manhique and Mark Van Koevering.
Bishop Rob's visit to Mozambique
Bishop Rob's made his first visit to Mozambique to attend the enthronement and to visit both partner dioceses. Share his journey as it happened by following his Tweets.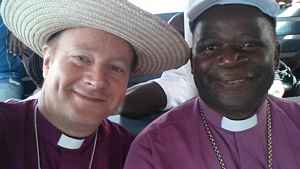 With Bishop Carlos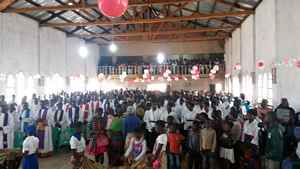 At Sao Paolo Lichinga
During his visit he met Emeritus Bishop Dinis, travelled with Bishop Carlos to Lichinga for Bishop Vicente's Enthronement, met Archbishop Thabo and other guests from South Africa and Malawi, and also the Niassa Team including Bishop Manuel and the Mission department team. As well as teaching the gathered clergy in Niassa he met the ordinands and pilgrims in Lebombo, who are now all 'Praying for Seven' and visited to churches, projects in both Dioceses and even the new seminary site in Lebombo.
You can hear more stories from this visit on TUESDAY OCTOBER 17 when Bishop Rob will lead the ALMA Reps Meeting 6-8 pm, Main Hall, London Diocesan House. Please put this date in your diaries now!
Diary Dates: The Months Ahead!
4 -12 June John Tasker, ALMA Twinning Officer, goes to Angola to attend Diocesan Synod in Luanda
3 -12 July LEBOMBO PILGRIMAGE Bishop Carlos and 25 Pilgrims, mostly from Maputo churches, come to London and Canterbury
9 July ALMA SUNDAY Afternoon tea 3.30-5pm at St Vedast (near Cathedral). Please RSVP to Helen Doery. Offers of help, and cake would be greatly appreciated.
9 July ALMA Sunday Eucharist 6pm at St Paul's Cathedral, with Bishop Carlos Matsinhe, Bishop of Lebombo, preaching and very special worship from the pilgrims.
11 July LUNCH FOR LINK PRIESTS with Lebombo links and their staff teams. 12.30-2pm, Main Hall, London Diocesan House Please RSVP to Helen
20 - 30 July ALMA Rep Simon Gordon Clark visits Angola
17 October ALMA Meeting 6-8 pm Main Hall, Diocesan House with light refreshments from 5.40pm. Bishop Rob will be speaking at this meeting and sharing more on his visit to Mozambique.
Meanwhile in Angola
We were sad to hear that Revd Maria Domingos, our Link Officer, has been unwell with both malaria and typhoid fever. She is now convalescing and we send her our prayers for a full recovery. We also pray for Revd Mansita Sangi who has been very unwell too.
Maria has sent us some photos of photos from Benguela School where the extension to provide a further four classrooms is progressing well. We pray for the ongoing work at Benguela and Negage Schools and for the children who currently don't have school places who will soon be in formal education.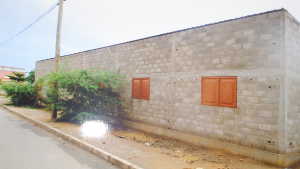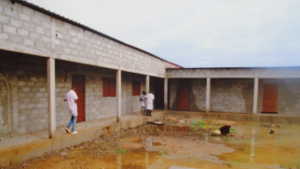 Lent 2017: Diocesan Lent Appeal for ALMA "Sowing Seeds for Tomorrow"
In London our Diocesan Lent Appeal 'Sowing Seeds for Tomorrow' for three key educational infrastructure projects in Angola, Lebombo and Niassa has been a major focus with the Diocesan Communications and Fundraising Teams encouraging everyone to join in with regular tweets. (ALMA now tweets too - #ALMALondonD so please do follow us).
The ALMA Team have preached during Lent at All Saints Ealing Common, St Michael London Fields, St Andrew's Bethune Road, St Paul's Ruislip Manor, Holy Cross Greenford, St Mary Abbot, St Matthew's Bayswater. It is not too late though to support the Lent Appeal or to request an ALMA Speaker - please do email Sheenagh to arrange this.
Thank you to those of you who have already sent in your contributions to the Appeal. We have been very moved at some of the letters we have received with the donations. One donor gave a proportion of a retirement lump sum; another responded so creatively to the 'daydream' I shared on Facebook 'Imagine if everyone on the Diocese of London electoral roll gave their first new £1 coin to the Lent Appeal'…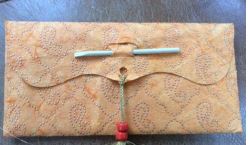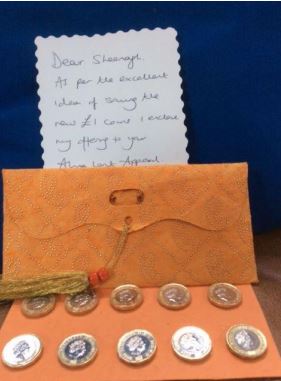 Lent Appeal Gifts
Please do continue to keep the Lent Appeal projects in your prayers -and also the very exciting first ever…
… Lebombo Pilgrimage to London
Bishop Carlos and 25 Pilgrims from Lebombo will be visiting London and Canterbury from 3-11/12 July which will include ALMA Sunday. They have a full itinerary which includes visits to key Anglican sites including the Compass Rose at Canterbury Cathedral, Lambeth Palace, St Paul's Cathedral, as well as a visit to the Africa Gallery of the British Museum, Parliament, the Tower of London and Diocesan House. They will also be visiting Lebombo link parishes -many thanks to those of you who have offered to host evening meals and evening prayers. We are still looking for a host for Saturday evening 8 July, and also hope that some you will want to invite a small group of three pilgrims to join your service on the morning of Sunday 9 July. A letter from Bishop Rob to link priests about this is in the post. Please do get in touch.
ALMA Sunday
Joanne has designed a poster for our ALMA Sunday service.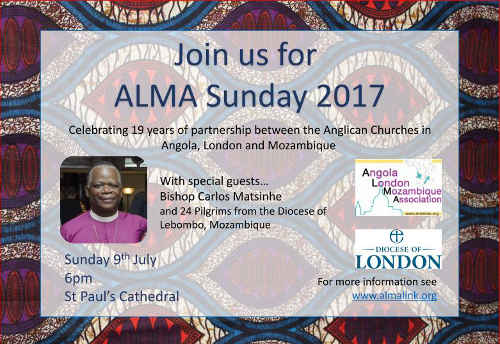 A high-quality version, suitable for printing, is available here. (

4067Kb)
OLA PAZ
Another prayer request is to keep praying for peace in Mozambique- it's working. The ceasefire has been extended again with the truce first announced in December on the way to becoming permanent. Mozambique's opposition leader Afonso Dhlakama calls this the "beginning of the end" of the war between his rebels and the government. See more ….
Some news from ALMA Reps
Please pray for Helen Doery, our Communications Officer, who is currently on a SOMA mission to DRC, especially for safe homeward travel on Monday.
Warm congratulations to ALMA Rep for St Paul's Bow Common, Jennea who recently married Arthur. We wish them much happiness.
Congratulations too to ALMA Rep for St Mary Magdalene Littleton, Fran Chandler, who has recently been awarded a St Mellitus medal for her work on Fairtrade Diocese and World Development.
And a personal request for your prayers as I am to be ordained on 1 July in St Paul's Cathedral. It is very special that Bishop Carlos Matsinhe can come to London before the Pilgrimage to be at the ordination service.
Look forward to seeing you on ALMA Sunday and during the pilgrimage.
All best wishes,
Sheenagh Burrell
ALMA Co-ordinator
Tel: +44 20 7932 1231 Tuesdays Diocese of London, London Diocesan House, 36 Causton St, London SW1P 4AU.