As we prepare to welcome the first ever pilgrimage from a partner diocese to London next month, 3-12 July, a moment's reflection on prayer.
One of the strengths of the ALMA partnership is the way it is undergirded by prayer – both corporate and private: each Wednesday ALMA links in Angola and Mozambique are included in the Diocese of London cycle of prayer; ALMA Reps, Link parishes and Link priests in Angola, London and Mozambique are remembered in the daily offices of our Intercessory Chaplain, and of course, in our personal prayers.  It is special to have received prayers from our partners in response to the harrowing month the UK has lived through - Manchester, London Bridge, Finsbury Park and the tragedy at Grenfell Tower.
Bishop Vicente: (Niassa, Mozambqiue) 25 May 2017
Dear Friends in Christ,

It is with profound regret and heartfelt sorrow that we have learnt the tragic death of 22 people, on Monday 22 of May, as the result of a bomb that went off at an Ariana Grande show in Manchester, not to mention the 59 people who were sent to the hospital. We are deeply saddened and disturbed by the news. We pray that God will grant you and the bereaved folks the strength needed to get through this moment

May God console you among the other. You are in our thoughts and prayers. Our most sincere condolences.
Bishop Carlos: (Lebombo, Mozambique) 5 June 2017
Dear Friends,

It is with shock that we received the news of yet another terrorist attack that has caused death to seven people and many injured. Were know what it means to live under such an atmosphere of fear, danger and insecurity. We lament and bow our heads to say our prayer in solidarity with the direct victims and their families as we also hope this prayer can embrace everybody living in that area. Be assured that we share the burden of this continuing threat among the people of London.

May God strengthen you all and may his gifts of Peace and Love among peoples prevail. And may the Spirit of Pentecost renew our minds and give us power to spread Peace.
Bishop André: (Angola) 15 June 2017
Greetings from the Diocese of Angola. We regret for the actual situation which the people of England have been facing from the acts of terrorism held in Manchester and London, and now the fire which killed 12 (Note: the death toll has now risen to 79 people). We as human beings express our solidarity to the people of England in this time when you are remembering those who have lost their life.

May the Lord be with the families and give good rest for their soul and rise in his glory.
Diary Dates
1 July Bishop Carlos Matsinhe, Bishop of Lebombo, attends the Ordination of Deacons Service in St Paul's Cathedral.
3 -12 July LEBOMBO PILGRIMAGE 25 Pilgrims, mostly from Maputo churches, join Bishop Carlos to visit London and Canterbury - the first ever visit of this kind.
9 July ALMA SUNDAY Afternoon tea 3.30-5pm at St Vedast (near Cathedral). Please RSVP to Helen Doery. Offers of help, and cake would be greatly appreciated.
9 July ALMA Sunday Eucharist 6pm at St Paul's Cathedral, with Bishop Carlos Matsinhe, Bishop of Lebombo, preaching and very special worship from the pilgrims.
11 July LUNCH FOR LINK PRIESTS with Lebombo links and their staff teams. 12.30-2pm, Main Hall, London Diocesan House Please RSVP to Helen
20 - 30 July ALMA Rep Simon Gordon Clark visits Angola
17 October ALMA Meeting 6-8 pm Main Hall, Diocesan House with light refreshments from 5.40pm. Bishop Rob will be speaking at this meeting and sharing more on his visit to Mozambique.
Breaking news … We may also have two visitors from  Mozambique with us on 17 October!
The LEBOMBO PILGRIMAGE …
… is only 10 days away!
There are so many people across London being part of the jigsaw of hospitality over the nine day that we want to say
thank you to the church hosting brunch on the first day and the churches hosting the pilgrims for an evening meal and evening prayer;
thank you to the church hosting the early arriving pilgrim;
thank you to the churches hosting pilgrims on ALMA Sunday morning
thank you to the people showing the pilgrims around the places we are visiting
thank you to my own church for hosting the homestay pilgrims
thank you to Geoff Lumley for a stunning pilgrimage booklet and for giving his time to be the pilgrimage guide. And to Abigail Brown for translating the booklet.
Please have a look at the pilgrimage programme below and pray for us day by day: for travelling mercies; for fun, fellowship and deepening friendships; for links to be strengthened and renewed; for our faith to grow that we may all be more committed Ambassadors for Christ.
Morning

Afternoon

Evening

Monday 3 July

Arrivals: 06.25 / 09.05
Travel to St Matthew Yiewsley for brunch

Travel Yiewsley to Ealing Broadway

Go to Accommodation

Meal and evening prayer at Holy Trinity Sloane Square

Tuesday 4 July

Lambeth Palace tour and midday Eucharist with Lambeth Community

Orientation walk/bus ride around Westminster.

Meal and evening prayer at St Paul's Knightsbridge

Wed 5 July

Canterbury Cathedral tour + midday Eucharist

Canterbury

Meal and evening prayer at St Paul's Ealing on return

Thursday 6 July

British Museum
Tour of Africa Gallery and Swords into Ploughshares sculptures

St Paul's Cathedral Tour and Evensong

Meal and evening prayer at St Mary Stoke Newington

Friday 7 July

Tour of Tower of London with Chapel Administrator

River Thames and Greenwich

Meal and evening prayer at St Paul's Bow Common

Saturday 8 July

Free/Optional activities

Meal and evening prayer at St John's Notting Hill

Sunday 9 July

Visit one of four ALMA churches for Sunday morning and lunch
St John's Greenhill
St John Friern Barnet
St Dunstan East Acton
St Mary Stoke Newington

15.30-17.00 ALMA afternoon tea at St Vedast 

18.00 ALMA Sunday Eucharist St Paul's Cathedral

Monday 10 July

 Tour of Parliament with Speaker's Chaplain

13.00 -15.00 Lunch at LDH with ALMA Vice Chair Archdeacon John. Pilgrimage reflection and formal ending.
Evensong at Westminster Abbey

Garden gathering in Ealing home

Tuesday 11 July

Tour of Mary Sumner House Midday Prayers with MU staff

(+ Carlos  with Lebombo Link Priests)
----------------------
Pilgrims  free  
Evensong Westminster Abbey

Meal and Evening Prayer at St Peter's Notting Hill

Wed 12 July

12.00/15.00 Pilgrims to Airport
Very LAST MINUTE REQUEST …
If you have a redundant Oyster card, (plus five spare minutes and a stamp today) would you consider donating it to the pilgrims? We need 20 more by Tuesday! Post to ALMA (See p1 for address) or drop it into Diocesan  House.
Other News
Angola
John Tasker has been to Angola earlier this month for Diocesan Synod –just a few glimpses here for now. It was a dynamic Synod with a range of presentations and debates including: parish leadership teams; multiplication of the diocese; creating a new archdeaconry; how to celebrate Lent; increasing the Diocesan quota; transforming the church's financial health; community health teams and malaria work. Synod was held at St Stephen's Luanda with inspiring youth involvement and of course surrounded by the school there.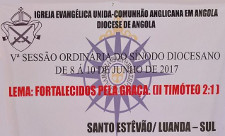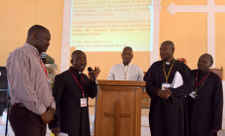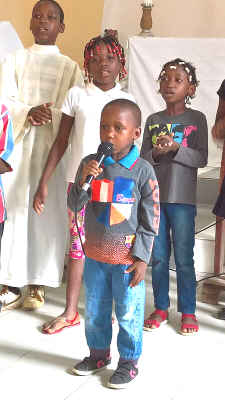 Lebombo

100 Lebombo pilgrims from Maputo and Pungue crossed the border last Friday to Marondellas in Zimbabwe to celebrate Bernard Mizeki Weekend. They reported that The Presiding Bishop of The Episcopal Church of the USA preached, while 2.670 Lebombo Christians met at five different archdeaconries to celebrate Bernard Mizeki's Day in the Diocese. Bishop Carlos dedicated the church of Bernard Mizeki at Mapileleni, a suburb of Xai-Xai.
Earlier in June there was a very special celebration in a Maputo church …

St Barnabas Mahotas, Bagamoyo (Twinned with St John's Greenhill Harrow) celebrated 100 years of ministry! Letters from Revd Barry Hingston, Priest at St John's Greenhill, and from ALMA London were read out at the celebration. We give thanks for this special church and all that has grown from there.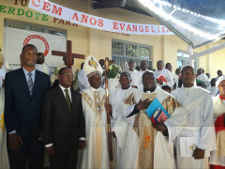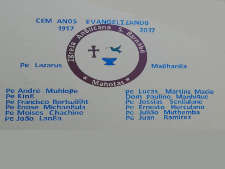 Niassa
Bishop Vicente has been on pastoral visits around the Diocese of Niassa visiting Tete and Milange Archdeaconries in May and June.

In Tete he visited 'the congregation of Holy Trinity church, a congregation made up of a community of refugees from Rwanda and Burundi. I confirmed four people and then proceeded with conversation after the service. I was supposed to spend a day but listening to their stories and concerns made me to spend three days with them. It was time of healing; we prayed and prayed, we give glory to God. It was really so hard to listening to their stories, their experiences and the treatment they have been receiving whilst in Mozambique but they were able also to differentiate with other neighbouring countries and said we prefer to stay here in Mozambique in this part of Mozambique …. There is one trained lay person who worked in the Diocesan offices as Diocesan secretary back home in Rwanda, he has theological training a Diploma who gave himself to serve the Lord in that community as Catechist. His name is Efraimo. They do small businesses to help them to earn a living. They love God despite their struggles. They asked also for a link parish that can help them cooperating. Interestingly this is happening in the moment that our Archdeacon Bukutu from the is in Rwanda on a Global Mission team'

Bishop Vicente also visited Macanga, with Ven Mselera, where he married two couples and admitted two catechists; In Cambulatsitsi, Capele, he confirmed 17 people; in Chidzolomondo we had two weddings and admissions of two catechists. He notes that people have bricks to build churches but the challenge is get money to buy iron sheets for roofing. So I was asked to help with the iron sheets, we are talking of 60 iron sheets per congregation. They promised to try to do the rest of the job themselves. In Capelele we worshipped under the tree, but it's a huge community. In Cambulatsitse they have only a thatched roof without walls. In Chidzolomondo it's a church made of mud bricks easily to fall during rainy season.

Perhaps there is a London parish that might like to think of supporting the cost of the roofing sheets for one of these small churches? Do contact us.

Bishops Carlos, Vicente and Manuel met up in Maputo for some future planning for the Anglican Church in Mozambique and for some fellowship!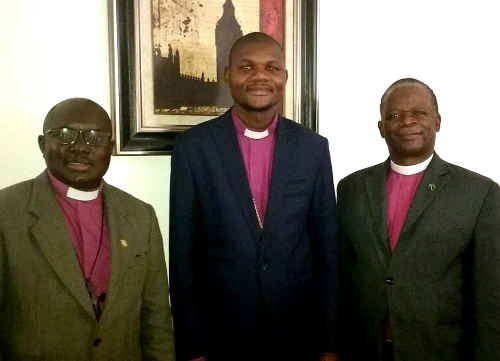 ALMA Sunday
Finally we are very much looking forward to seeing the gathered ALMA London Community on ALMA Sunday – for the afternoon tea and our celebration Eucharist with the Lebombo Pilgrims. Do invite friends and family to the service. It will be such a treat to have Bishop Carlos, the Pilgrims, The Mozambican High Commissioner, friends from Chatham House, MANNA, and our former link officer for Niassa, now Revd Dr Helen Van Koevering (many congratulations Helen!) with us.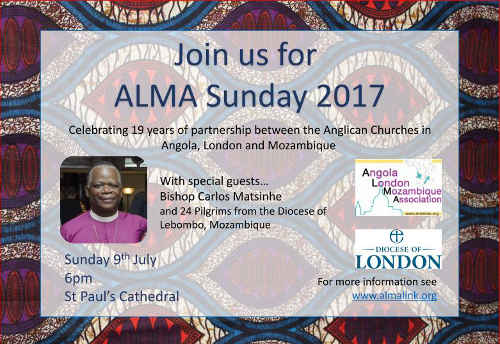 Thank you again for your support as we have planned the pilgrimage. Please hold this and our city in your prayers 3 - 12 July and also the rest of Bishop Carlos' visit pilgrimage. Thanks too for praying for me as I prepare for ordination next week.
All best wishes,
Sheenagh Burrell
ALMA Co-ordinator
Tel: +44 20 7932 1231 Tuesdays Diocese of London, London Diocesan House, 36 Causton St, London SW1P 4AU.