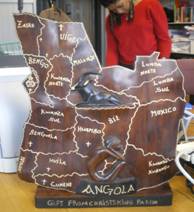 A carved wooden map of Angola, presented to Archbishop Rowan Williams last year and featuring all churches linked with ALMA.
We had a very full meeting, which is detailed below – along with the story of this magnificent sculpture and the acclamation Revd Muanga taught us in Portuguese!
Welcomes
Bishop Michael opened in prayer and began by introducing John Tasker, our Angola Chaplain, in his new post as ALMA Twinning Officer. We had the pleasure of welcoming three new ALMA Reps to their first meeting: Toks Ferguson from St Lawrence Eastcote, Anusha Leathard from St Luke's Chelsea, Wendy Keeney from St Barnabus Northolt, a member of St Olave's Hart Street, Dr DJ Brown (see c) and a visitor from Niassa: Ossoaldo Samuel, Vice Managing Director of Tectona –the forestry project in Zambesia. Ossoaldo is on an English Language course in London and staying with Francesca Keating from St Mary's Hampton. We also welcomed Bishop Michael in his new role as Canon Pastor of St Paul's Cathedral.
River of Life Service
Rachel Treweek and Beryl Warren briefed us on the River of Life Service to mark the 10th Anniversary of ALMA:
Archdeacon Rachel Treweek:
I want to share two dreams of hope with you. The first is that of Rev 22.v.1 & 2:

"Then the angel showed me the river of the water of life, bright as crystal, flowing from the throne of God and of the Lamb through the middle of the street of the city."

The second is of St Paul's cathedral full to overflowing on July 13 at 6pm.

The service comes just before the Lambeth conference and there are likely to be bishops present from across the world as well as Bishops Andre, Dinis and Mark. The service is about celebrating all the links which parishes have with people and places across the world. However, at the heart of the service will be ALMA.

The theme of the service is the River of Life. Flood and drought are familiar to many countries and are certainly something the ALMA countries are familiar with even London!). And yet as followers of Christ together we look forward to the day when there will be a new heaven and a new earth as portrayed in the imagery of the Book of Revelation.

The service will mark ten years of the up and down 'waves' of the ALMA story which has involved both smiles and tears, celebration and struggle.

Before a new covenant is signed by the ALMA bishops we will all be invited to renew our baptism vows as we remember that baptism is about both the waters of death and the water of life.

The service will involve the Twyford School Gospel choir, African drumming and Rivers of Prayer (see Beryl's piece below). However, what it needs is an enormous congregation! That will only happen if we all share in the responsibility of publicising the service and inviting people. How about making invitations to give to people yourself? How about not only bringing it to the attention of your own church but other churches in your deanery?

We want all nations to be represented and if people have dress appropriate to another country, please encourage people to wear it (so far I know of someone coming in a kilt and someone coming in a sari!).
For more information please contact Sheenagh at almacomms@london.anglican.org
Invitations:
Bishop Richard has sent an invitation and poster for the service to every, parish and chaplaincy within the Diocese. Do make sure your parish has received one and that it is on display. The poster can be downloaded.
EVERYONE IS WELCOME to this celebration. Please do your part in inviting people from your parish, school, college and neighbourhood. Apart from a small amount of allocated seating for Bishop Richard's guests, seating will be on a first come first served basis with doors opening at 5.15pm. Twyford School Gospel Choir (who many of you will have seen on Songs of Praise) will be singing from 5.30pm. Twyford School is linked with St Cyprien's School in Maputo.
Rivers of Prayer:
Beryl Warren, ALMA Intercessory Chaplain, is looking after this part of the service. She writes
Dear ALMA Reps,

One of the many aspects of our celebration will be a "River of Prayer". The river is meant to carry our prayers and messages of HOPE to God for all peoples.

As this "river" will be an expression not only of our hopes but our commitment to ALMA, as many prayers - in the form of postcards, pictures, photos or any other medium you may think appropriate, (the prayers will be affixed to light material) - as possible would be lovely!

This is a great opportunity for us to get our congregations and link parishes involved and for them to feel ownership, not only of the celebration but of our mission and journey with ALMA.

In order to complete this task in good time and for the end result to look beautiful we need the messages to get to me at St. Mary's Church, Stoke Newington Church Street, London N16 9ES no later than 29 June 2008 or via email to almacomma@london.anglican.org

I would be very pleased to receive them from now on. If you have any queries, please do not hesitate to contact me. My home no. is 020 7359 5481 and mobile is 07900 991774. Thank you. God Bless You All, Love and Prayers, Beryl.
A visit with a difference
After several visits to Mandimba in Niassa, including one where a serious health emergency was witnessed, Francesca Keating of St Mary's Hampton returned to Niassa with Leo Lawson-O'Neil and work colleague Dr David James Brown (DJ) to carry out a report into Primary Health care in Mandimba – Engaging the Community. Both Francesca and DJ spoke movingly about their time in Mandimba, including the tragic loss of a newborn infant, and their meetings with various health and provincial officials ably facilitated by Revd David Geraldo. This will be a ground breaking and long-term initiative. DJ very kindly offered his professional skills if other link parishes were considering a similar survey and project.
No Hands But Ours
Revd Chris Brice, Adviser for Social Justice introduced a new ecumenical publication that can help ALMA Reps engage their parishes in the wider arena of social and global justice: Based around the Five Marks of Mission of the Anglican Communion "No Hands But Ours" includes a 28 page booklet packed with information, resources, ideas and spiritual inspiration to help local churches engage with issues of social justice as an integral part of their overall mission. It also features a helpful review and audit of your church's current engagement with justice and peace issues and a step by step guide to setting up a local church social justice group. The package includes a "No Hands But Ours" DVD offering interactive access to the full text of the booklet as well as specially filmed "beacons of hope" videos of volunteers in social action projects in local churches addressing homelessness, refugees, fair-trade, peace and other issues. It also features interviews with some of London's church leaders.
Chaplaincy Groups
Group time in Chaplaincy groups for those with links in Angola, Lebombo and Niassa and a fourth group for new reps and project parishes. Apologies if it was rather noisy; next time we do this we will book the other rooms so we can each have a room.
News
Christian Aid Children in Conflict mobile exhibition is available for parishes before and after 13 July – a good opportunity to share your link with your local community.
25 April, the day after the meeting, was Jubilee Debt Campaign Fast Day for Angola, (part of a 36 day fast in the run up to Journey for Justice on 18 May, for the indebted countries still awaiting debt remission). It was also the first World Malaria Day. Prayers for the fast were available at the meeting and are in the getting involved/prayer section of the ALMA website.
Peter Southwood told us that the Lent Appeal had to date received about £25,000 but that cheques were coming in each day.
ALMA Reps and Friends have been busy people! Tom Smith has run the London Marathon to raise funds for his link parish - St. Michael and All Angels, Negage, Angola. St John Friern Barnet has had an auction of promises and raised £9000 for projects in their link parish St George's Beira, Lebombo and Father Paul's visit in June. One modest but enterprising ALMA Friend has had his fundraising efforts matched by his employer raising £1400 for ALMA. Do see whether you might be able to take advantage of similar schemes.
Portuguese Acclamation
Revd Muanga taught us the acclamation "God is good. All the time. All the time. God is good" in Portuguese. This was immediately demonstrated as we then unwrapped a package which had been on the table during the whole evening. This was a gift entrusted to ALMA by Archbishop Rowan. It is a carved wooden map of Angola, presented to him last year and featuring all the churches linked with ALMA. Truly we could say
Deus é bom, todo tempo. Todo tempo, Deus é bom