To mark the retirement of Bishop Richard Chartres, Bishop of London, ALMA presented him with a photobook and a capulana.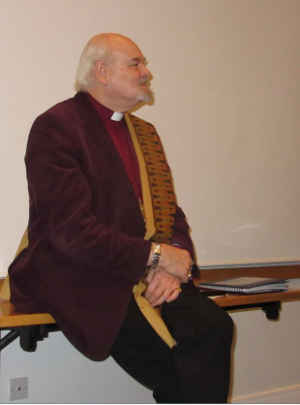 In making the presentation, Sheenagh Burrell, ALMA Co-ordinator, said
"Bishop Richard, on behalf of ALMA friends in Angola, London and Mozambique, we would like to thank you for everything you have been to ALMA. It wasn't the easiest of links and many of us are so proud that London chose to link with Mozambique - one of the most heavily indebted countries in the world - and with Angola still in the grip of a civil war in 1998.  This link has exposed us to other realities, including life in post conflict socities, HIV and malaria, trade and climate injustice; it has helped us walk in another's shoes and indeed learn from them and it has widened our understanding of who our neighbour is.
But as the original ALMA covenant said:
Partnership is a deep friendship between people which engages their families and offspring.
There has been much friendship and laughter in these 18 years and this small photobook we have made for you charts your ALMA journey over the years and ends with the promise of our continued prayers. We also give you, on behalf of our partners who mark every significant occasion in this way, a traditional capulana."