The Diocese of London Cycle of Prayer is organised months in advance but, in Godly synchronicity, today and next week we are praying for the areas in the Diocese of Lebombo most affected by Cyclone Idai. On 10 April and 17 April, there will be prayers for districts of Mozambique:
Diocese of London Cycle of Prayer: Wednesday 10 April
ALMA (Lebombo): pray for the District of Púnguè: The Venerable Narciso Langa (Archdeacon);
for St George, Beira: Archdeacon Narciso Langa;
St Bernard Mizeki, Chimoio: Paulo Joaquim;
and Epiphany, Tete: Miguel Simbe
Diocese of London Cycle of Prayer: Wednesday 17 April
ALMA (Lebombo): pray for the hospital chaplaincy, led by Raul Nhatumbo;
for All Saints, Nhamatanda: Domingos Chipuazo;
St Mary, Zove: Xavier Muaga;
and St Mary, Mutua: Araújo Cateano
Cyclone Idai made landfall in Beira, the Indian Ocean Port and fourth largest city in Mozambique with a population of 500,000. Everyone has seen television pictures of people on rooftops and trees, the destroyed buildings, and the huge inland sea, the size of Colorado, alongside the heroic rescues, aid arriving, including tents for the homeless, and vaccinations.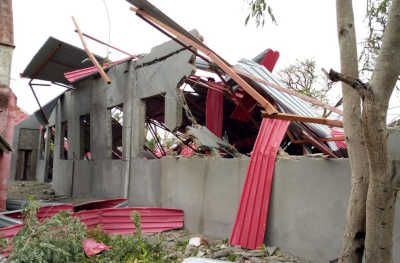 St Jorge, Beira
The most recent statistics on the situation in Mozambique are:
People killed: 602
People injured: 1,641
Houses damaged or destroyed: 239,682
Crops damaged: 715,378 hectares
People affected: 1.85 million
Confirmed cholera cases: 2,772
Confirmed cholera deaths: 5
Bishop Carlos Matsinhe, Bishop of Lebombo, has requested that we work alongside the Anglican Church there as they respond to the immediate crisis and needs, and then later in the post emergency recovery and reconstruction stage.
Bishop Rob Wickham, London's Bishop for ALMA has laid out the three pronged ALMA London response
We have sent an immediate £5000 from ALMA General Funds,
During Lent we are collaborating with MANNA, as Anglicans who are also friends of the Mozambican Church, to enable UK churches who wish to respond to the emergency to do so quickly (See: Manna site)
Over Pentecost, when the immediate emergency has abated and the reconstruction needs are quantified, we will have an appeal in London to raise funds for the reconstruction of churches which are vital community hubs, and also pastoral houses and church schools.
This 'being church together' is the very DNA of the ALMA partnership.
In light of this Cyclone Bishop Rob also urges us to
'reflect on how we use the world's natural resources - we must measure our own impact on climate change. This is yet another wake up call for London and beyond, to continue to review and change our everyday behaviours, and encourage others to do the same. Our consumption of energy is linked to these events'.