News
Visit from Angola
The ALMA Partnership has had a wonderfully busy January and February with a visit to London in January by Archdeacon Augusto Domingos and Paulo Manuel from the Parish of the Martyrs, Uige in Angola, to their link Parish St Marylebone who were celebrating their 200th Anniversary.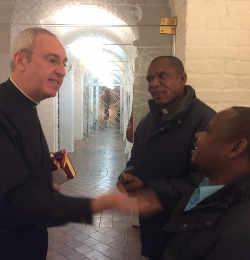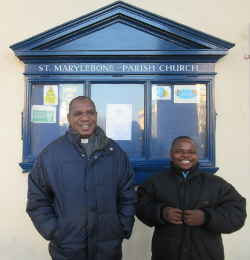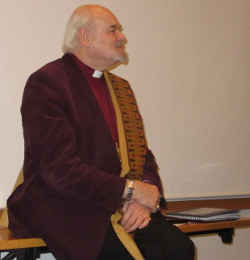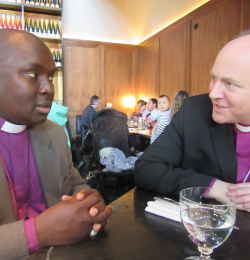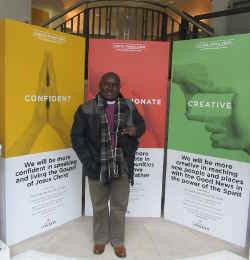 Bishop Richard Chartres
London sadly said goodbye to Bishop Richard who has been Bishop of London for the entirety of the ALMA link. We presented him with a capulana and an ALMA photobook "With Thanks for our Partnership in the Gospel" along with our prayers for his retirement. We then celebrated his Ministry in a packed St Paul's Cathedral for Candlemas. Sam Donoghue, Diocesan Head of Children and Youth Support, took the stunning photo of cathedral aglow in candlelight centre picture in the collage). Read Bishop Richard's Valedictory sermon here and the Church Times review of Bishop Richard's Ministry here.
Visit of Bishop Manual Ernesto
February brought Bishop Manuel Ernesto to London after his time in Canterbury on the new Bishops' Course. We had a wonderful time with him at Diocesan House Staff doughnuts and an ALMA Meeting on 14 February (complete with chocolate hearts).
He was able to visit ALMA Link parishes in Teddington, Hampton, Hampton Hill, Shepperton, Enfield and Tottenham, who all have links with Bishop Manuel's areas of responsibility in Lurio and Zambezia.
He also attended a meeting of the International Anglican Families Network at the Anglican Communion Office, visited Edward Betham School (last picture above) and two others in Shepperton and Teddington.
He met with friends too, including past visitors to Niassa Revds Mark Melluish, Chris Fox, April Keech, Canon Philippa Boardman and Revd Nicholas Wheeler who he last met in Brazil at the second Lusophone Anglican Conference. Many thanks to all the hosts.
We pray that these link parishes will be renewed through the relationships formed during Bishop Manuel's visit.
The new Bishop of Niassa
Bishop Manuel left the UK for Johannesburg and the Anglican Church of South Africa Synod of Bishops which ended with the consecration of the new Bishop of Niassa, Bishop Vicente Msosa on 25 February.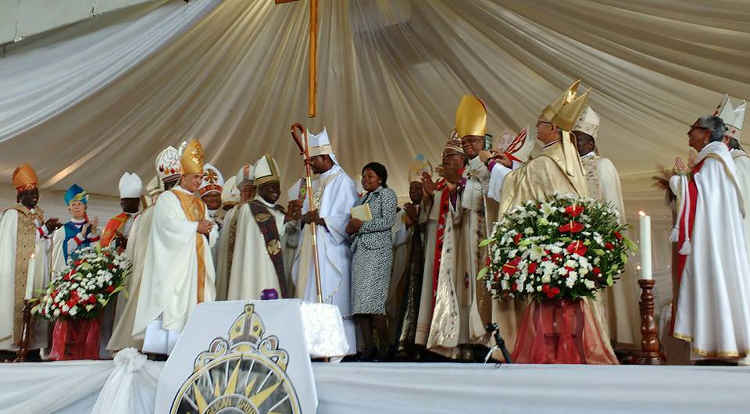 At the Consecration of Bishop Vicente Msosa
Please pray for Bishop Vicente and Anastacia as they wait for his Enthronement in Lichinga on 1 April.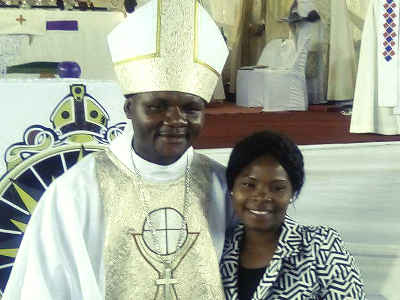 Bishop Vicente and his wife Anastacia
Lent 2017: Diocesan Lent Appeal for ALMA "Sowing Seeds for Tomorrow"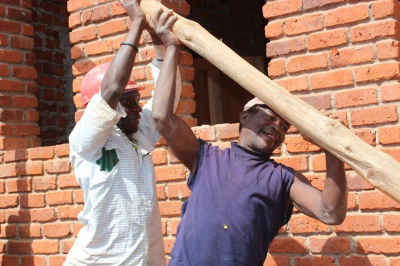 Bishop Richard requested that this Lent Appeal is for ALMA, to support major educational projects in our three partner dioceses which will have significant impact on the future mission and growth of the church: extending church schools in Angola, building a new Seminary in Lebombo, building a regional training hub with accommodation in Nampula. There is much more information in the Lent Appeal Card.
I am very struck though by today's lectionary reading - Isaiah 55: 10-11
10 For as the rain and the snow come down from heaven, and do not return there until they have watered the earth, making it bring forth and sprout, giving seed to the sower and bread to the eater,
11 so shall my word be that goes out from my mouth; it shall not return to me empty, but it shall accomplish that which I purpose, and succeed in the thing for which I sent it.
Please will you join us this Lent in thinking of the bigger picture and raising funds to help our partner dioceses implement these strategic projects?
There are many additional resources that could be of use in your parishes: besides the Lent Appeal cards (designed to be displayed on mantelpieces and prayer corners throughout Lent) and the posters, there is a wonderful film made by Joanne Beale, our Mozambique Projects Officer, several power point presentations with accompanying notes, five case studies and the Lent Appeal Prayer. Our website has a very helpful page in accessing these resources.
The ALMA Team is very willing to accept invitations to talk and preach during Lent. There are still some vacant slots so do get in touch with Sheenagh Burrell to arrange this.
Other January-February News
Diary Dates: The Months Ahead!
28 March - 9 April Bishop Rob Wickham, London's Bishop for ALMA visits Mozambique. He is travelling via Maputo for the Enthronement of Bishop Vicente Msosa in Lichinga and will spend a few days in Niassa and a few in Lebombo. It is very special that he has already met Bishop Manuel and will meet Bishop Carlos Matsinhe (Bishop of Lebombo) before Bishop Carlos visits London in July.
3 July – 11/12 July Lebombo Pilgrimage to London and Canterbury 22 people will be coming from Lebombo with Bishop Carlos which will be thrilling for our link! Everyone will have a chance to meet the pilgrims on our festive weekend celebrating the 19th anniversary of ALMA.
Sun 9 July ALMA afternoon tea at St Vedast 3.30pm and ALMA Sunday Eucharist at 6pm St Paul's Cathedral however we are hoping Lebombo Link parishes might offer to host the pilgrims for an evening and hopefully an early evening meal. Please will you get in touch if you would like to be involved in this way?
Sheenagh has been appointed as Bishop Carlos UK Commissary as she organises the pilgrimage. We are also very grateful for the help of Geoff Lumley (former lay Chaplain at Twyford School and London expert!). Currently we are juggling the itinerary but have two key days confirmed.
Tuesday 4 July – Lebombo Pilgrims visit to Lambeth Palace culminating in a lunchtime Eucharist
Wednesday 5 July – tour of Canterbury Cathedral, including the Compass Rose followed by a lunchtime Eucharist.
Further details of the itinerary in the next newsletter.
Tuesday 11 July ALMA Link Priest's Lunch with Bishop Carlos 12.30 -2pm at Diocesan House
It was good to see so many of you at the ALMA Meeting. Particular thanks to Revd Chris Swift for sharing his experience of the ebbs and flows, as well as the joys of the link parish relationship. How the smart phone, google translate and face book have helped us communicate better –but nothing beats knowing each other!
Together this Lent we have a big opportunity to share more of the ALMA partnership across our Diocese. We pray the Lent Appeal Prayer together:
Lord God in times of great uncertainty
when the future seems bleak and fragile,
inspire us to hope.
Give us the courage to plan creatively for tomorrow
that we may boldly proclaim your gospel
so your kingdom may come on earth as it is in heaven.
Bless the church in Angola, London and Mozambique
as together this Lent we sow seeds for tomorrow.
With thanks and prayers,
Sheenagh Burrell
ALMA Co-ordinator
Tel: +44 20 7932 1231 Tuesdays Diocese of London, London Diocesan House, 36 Causton St, London SW1P 4AU.