In June and July 2010, ALMA mounted two exhibitions as part of the City of London Festival - an exhibition of sculptures at St Paul's Cathedral and of capulanas at St Botolph's-without-Bishopsgate.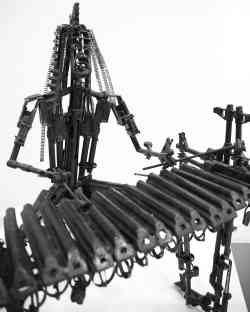 "Music Man" sculpture
Swords into Ploughshares
Three evocative sculptures made from guns were on display in St Paul's Cathedral. They are the contribution of the church to Mozambique's transition to peace. The project took over 700,000 weapons out of use and has had a global impact. (More details of the Transforming Arms into Tools project.)
There were also images of other sculptures and pictures from Angola and Mozambique reflecting both the countries and their connections with London.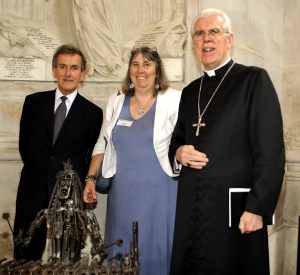 Neil McGregor, Sheenagh Burrell and Bishop Michael Colclough at the launch of the Swords into Ploughshares exhibition
The exhibition was launched by Neil McGregor, Director of the British Museum, who gave a group of visiting school children from Southwark Park School their own 'History of the World in 100 Objects' tour of the sculptures. His unique unfolding of the stories and significance of the sculptures captivated not only the ten year olds!
Download the Swords into Ploughshares hand-out(

35 Kb).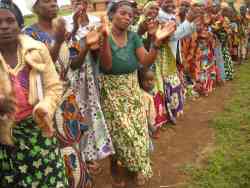 Capulanas worn by the women of Mucaba, Angola
Angolan and Mozambican Capulanas
In contrast to the hard edges of the sculptures made out of weapons, St Botolph's-without-Bishopsgate hosted an altogether softer exhibition — the church interior was transformed by a sea of brightly-coloured capulanas, the garments traditionally worn by Mozambican and Angolan women.
The exhibition was much visited and commented upon, not least because of the presence of the four mannequins in the aisles. It was extraordinary to see the wealth of capulanas owned and treasured by ALMA in London all in one place – each a testimony to the relationship and to the visits between ALMA partners over the last twelve years. We photographed each capulana so we have a record of these wonderful cloths which chart so many aspects of life in Angola and Mozambique.
Download the Capulanas exhibition hand-out(

57 Kb).
There is a photo gallery.